UPDATE TUESDAY MORNING: The French Catholic school board says there is still one probable case.  The two suspected cases are no longer a concern – tests came back negative yesterday.
It has yet to be determined how long Ecole Nouveau Regard in Cochrane will be closed.
One probable COVID-19 case has been identified in the K-to-12 school.  And the board's communications director, Richard Loiselle says two more are being investigated by the Porcupine Health Unit.
"It's very important that we use the proper terminology," he emphasizes. "They're under investigation."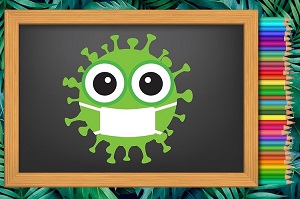 Loiselle says closing the school in collaboration with the health unit is exercising an abundance of caution.
"The reason for closing the school is for us to allow the Porcupine Health Unit to fully engage in their investigation," the communications director adds.
Sanitization is being carried out inside the building, which houses 339 students, 35 staff members, and a day care centre.
"The daycare centre is not closed," Loiselle notes. "They have their own access to and from the daycare."
Online learning to replace classroom sessions begins Tuesday morning.