Submitted by Michelle Simard, Cochrane District Crime Stoppers Coordinator
The Ontario Provincial Police need your help in solving a theft from a construction site on Highway 11, near Strickland.
Sometime between August 4th at 6pm and August 5th at 6:15 am, unknown suspects took a black homemade 2009 flatbed trailer with a red 3000 Liter fuel tank affixed to it.  The fuel tank was full of colored diesel fuel.
The estimated value of the trailer is $15, 000.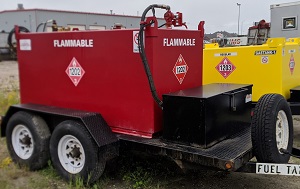 As a community let's find the people responsible for this theft.
If you know who committed this crime or any other crime call Crime Stoppers right now at 1-800-222-TIPS, use the internet at www.P3tips.com or download the P3 app.
If your information leads to an arrest you could be eligible to earn up to $2,000 in cash.  You will remain anonymous and will not have to testify in court.  That is our promise to you, the tipster.
See something, hear something, do something.  Call Crime Stoppers.
Audio version of this report: