Don't expect the mandatory face mask order that goes into effect on Thursday in our region to go away any time soon.
Medical officer of health Dr. Lianne Catton says that's partly because she expects a second wave of COVID-19 infections, probably this fall.
"I would expect to reassess it around September. I think that's a good timeframe," she says. "However, I will be very honest that I expect this will be in place for some time yet and I will be very surprised if it ends in the fall or that early."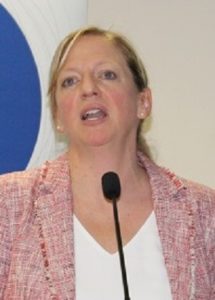 "We expect to have a second wave," Catton continues. "We have seen this pattern throughout and really, this is such am important measure to have in place, to have face masks or face coverings in public spaces be our new norm moving forward."
Catton adds that this is an opportunity to prepare for the second wave, prevent more outbreaks, and avoid overtaxing the health system.  The doctor adds that no one wants to back into earlier pandemic restrictions.