*UPDATE: Adams apologizes.  See separate story.
Professional musician and Timmins-James Bay MP Charlie Angus says he's appalled at an Instagram rant by Canadian rocker Bryan Adams.
In a profanity laden post, Adams lashes out at meat markets in China for causing and spreading COVID-19, and scrapping his gigs at London's Royal Albert Hall.
Angus says someone with Adams' influence shouldn't be saying such things.
"I mean the respect that Bryan Adams has, being such a bonehead," Angus comments. "Like yeah, your tour's been screwed up, but you know, a lot of people are suffering a lot more than you are, Pal.  So just suck it up, Buttercup."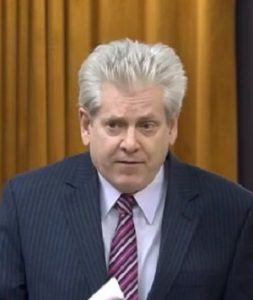 Adams is an officer of the order – the second of three levels.  Angus doesn't think what Adams said lives up to the spirit of the highest civilian award in the country.
"The people who are named to the Order of Canada get this reward because we say they represent the best of Canada," says the MP and former member of The Grievous Angels.  "And there's a spirit in Canada and there's an openness in Canada and there's a respect in Canada and we don't go after minorities when times get tough.  That's not what we do."
Angus says an apology from Adams should be forthcoming.