She has said several times that our area is at a different stage of the coronavirus pandemic than most of the province.  Yet the Porcupine Health Unit's medical officer of health says she's okay with more retail establishments opening over the next several days — under conditions.
Dr. Lianne Catton says as long as all the precautions that we've come to know are taken, she's okay with it.
"Most of it is still curbside pick-up and many requirements are in place in order to ensure that we have limited potential exposure," says the MOH.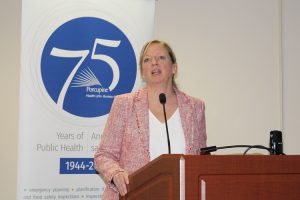 Catton says she's still asking anyone who's ill with COVID-19 or anything else to stay home.  And she continues to emphasize the measures to prevent spreading the virus.
"We'll continue to work with everyone to ensure that the diligent hand washing, the physical distancing, the wiping down of frequently touched surfaces are really reinforced and become our new norm for the next little while."
Garden centres and nurseries can open tomorrow, hardware and safety supply stores on Saturday,and on Monday, retailers with entrances from the street, for curbside pick-up.