The phrases "flatten the curve" and "expand our bubble" have come into common use during the COVID-19 pandemic.
Three consecutive days without a positive test for coronavirus in Porcupine Health Unit territory are a sign that we're getting closer to doing both.
Medical officer of health Dr. Lianne Catton agrees that it's a good sign, but we must take it with caution.
"While it's always positive news and I think it's always a good sign that we're heading in the right direction and we're seeing people doing the important measures necessary to reduce the spread," Catton remarks." we also need to recognize that we will still see more cases."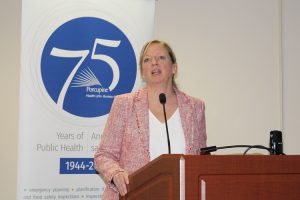 "I think it's some time away from predicting exactly what changes we may see with respect to our ability to visit with others and likewise I think it'll take a little bit more time to determine exactly where we are on the curve."
The MOH notes, too, that the province's moves to partially open more businesses today doesn't mean it's business as usual.  All the precautions remain in place to prevent spreading the virus.