Four cases of COVID-19 are confirmed in the territory covered by the Porcupine Health Unit, and testing continues.
Medical officer of health Doctor Lianne Catton says you can keep up on the internet with all the relevant local numbers.
"We are nwo posting and updating regularly on line the number of tests and results as they become available," she explains.  "This will be updated once a day and is available on our website."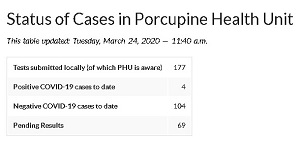 Catton continues to urge physical distancing and frequent handwashing to prevent the spread of the virus.
"We are all in this together, as long as we are two metres apart."
The four current cases are two men and a woman in their 50s and a man in his 70s.  They're all in isolation in Timmins.