All English Catholic schools in Ontario will be shut down by a one-day teachers' strike, next Tuesday, February 4th.
It will only be the second time for this particular teachers' group, and the second time in the 34-year career of Northeastern unit OECTA president Louis Clausi (LOO-ee- KLAWZ-ee).
He criticizes the Ford government for passing laws on issues that are supposed to be hammered out in contract bargaining, such as pay, e-learning and class size.
"(It) really puts them in the driver's seat with respect to bargaining.  It's supposed to be a shared experience," says Clausi. "But when you pass laws saying 'it's going to be this, this, this, now we'll talk about it with you, it doesn't set up a really good environment for bargaining for anybody."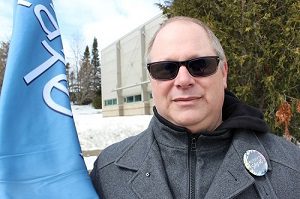 He notes that the Ontario English Catholic Teachers Federation has no plan yet to move away from the one-day strike model, into a full-scale strike.
"Who knows how long this will be? The government is certainly going to have to change its approach if they want to see any movement with respect to negotiations on this and maybe show up at the table. That would be nice also."