One year.  That's how long the board of the Cochrane Polar Bear Habitat has to become self-sufficient.  If not, town council will go ahead with its plan to shut it down.
Council voted Tuesday night to budget $400,000 for its operation in the 2020 budget, while it works with the Habitat board towards self-sufficiency by next December.
Council is critical towards the two senior levels of government for putting up money to build the Habitat, but none for its operation.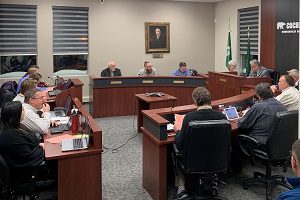 Mayor Denis Clement echoed that in a comment just before the vote.
"I do believe that we need to give the board of directors time to put together a business plan and we will work together with them," the mayor told the meeting.  "I'm committed to knock on every provincial door, any federal door wherever possible to help the board and the committee be successful."
Mayor Clement voted in favour of the extension.
"I thank everyone for their participation and I look forward to working together in the next year," he said.  "It'll be one heck of a year and hopefully we make this very successful.
Coun. Dan Belisle is the only member of council to vote against the resolution.  Coun. Shea Henderson couldn't vote, because his partner works at the Habitat.