Ontario's education minister has told reporters that his government is pulling back on its plan to increase high school class sizes from 22 to 28 students.
Stephen Lecce says that number is now 25.
Ontario English Catholic Teachers Association president covering the area from Cobalt to Kapuskasing and Moosonee shakes his head at that announcement.  Louis Clausi wonders why the minister is speaking publicly about it, while contract negotiations are ongoing.
"If they're going to discuss moving from 28 to 25 from their perspective, they should be doing that in bargaining," he states.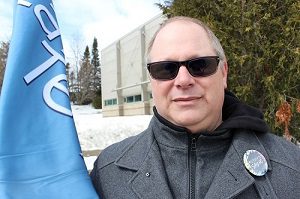 Clausi calls it strange and not constructive,and figures it's contrived.  He believes the government's number has been 25 all along.
"You always put something higher, and then you look like you're reasonable by dropping it."
He adds that at 25 or 28, it will still eliminate a lot of teaching jobs.
"Interesting the timing of this because we're just deciding to do our strike vote and then this information came, so interesting."
That strike vote is set for November 11th and 12th. Meanwhile, contract talks are ongoing.